ABOUT US
SYNER FREIGHT CO.,LTD. has been recognized as one of perspicacious and reliable leading freight forwarders in Thailand. Operating and integrating brilliant logistic services and consistent worldwide qualities of transportation are our passionate commitments to provide customers the most satisfaction.
We have extensively associated with internationally widespread partnerships not only inbound over Thailand but also outbound over the world.
In addition, the company has started concentrating on new innovative ways to offer any kinds of customers' freight forwarding businesses. We are employing a team of professionals who follows up through each and every transaction we manage considerably and distinguishably.
With our Global Service Network across many countries, we aim to be the most outstanding Freight Forwarding.
Removals, Relocation, Project Logistics with an inspired, people-driven and dedicated approach to serve our valuable customers impressive requirements are our fundamental basis to maintain our best reputation of service.
To instill client confidence in our service.
Your cargo will be handled with care safely and punctually
"Your cargo is our cargo"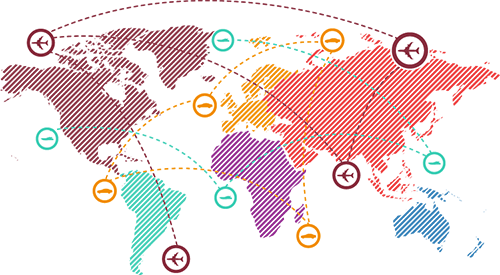 North America

Canada, Mexico
USA (Headquarter)
USA (Operational Offices)

Latin America

Argentina, Bahamas Bolivia, Brazil, Chile, Colombia Costa Rica, Cuba, Dominican Republic Ecuador, El Salvador, Guatemala Guyana, Honduras, Nicaragua, Panama Paraguay, Peru, Puerto Rico, Suriname Uruguay, Venezuela

Africa

Burundi, Cameroon Egypt, Ghana, Kenya, Libya Madagascar, Mauritius, Morocco, Nigeria Rwanda, South Africa, Tanzania, Tunisia Uganda

Middle East

Bahrain, Iran, Iraq Israel, Jordan, Kuwait, Lebanon, Oman, Qatar, Saudi Arabia, United Arab Emirates, Yemen

Europe

Austria, Belgium, Bulgaria, Croatia, Cyprus Czech Republic Denmark, Finland, France, Germany, Greece, Hungary, Ireland, Italy, Latvia, Lithuania, Malta, Netherlands, Norway, Poland, Portugal, Romania, Russia, Serbia and Montenegro Slovakia, Slovenia Spain, Sweden, Switzerland, Turkey, Ukraine, United Kingdom

Asia

Brunei, Burma (Myanmar), Cambodia, China, Hong Kong, Indonesia, Japan, Korea South, Macau, Malaysia, Philippines, Singapore, Taiwan, Thailand, Vietnam

Indian Sub-Continent

Bangladesh, India, Nepal, Pakistan, Sri Lanka

Australia/NZ

Australia
New Zealand